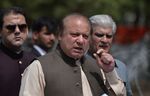 Given Pakistan's history of coups, political dysfunction and high-level graft, the Supreme Court's decision to oust Nawaz Sharif as prime minister for lying about his allegedly ill-gotten wealth would seem a victory for transparency and the rule of law. In fact, the verdict raises as many questions as it answers.
Sharif resigned on Friday when the court disqualified him from office after a corruption investigation into his family's finances. The probe found a wide gap between the Sharifs' wealth (revealed in part through the Panama Papers leak) and their stated sources of income. The justices declared him "not honest" -- hence in breach of a constitutional requirement for serving in parliament. The ruling party will choose a replacement to serve until elections expected next year.
Nobody should be above the law, but the circumstances surrounding the judgement are troubling. The justices have faced pressure from rival politician Imran Khan, who has been campaigning to drive Sharif from office. At times Khan has appeared to have the support of the country's military, said to be irked by Sharif's attempts to make peace with India and put former dictator Gen. Pervez Musharraf on trial.
Clear thinking from leading voices in business, economics, politics, foreign affairs, culture, and more.
In Pakistan's 70-year history, not a single prime minister has left office as one would wish -- after losing a free and fair election. The justices' reliance on Articles 62 and 63 of the constitution (which demand that legislators be "truthful" and "righteous") won't help to put this right: The same criteria might easily be used to dismiss other politicians. Systemically fragile elected government is not what Pakistan needs.
The country's balance of payments situation has deteriorated, threatening growth. The military has continued to foment instability in Afghanistan and in Kashmir, while blocking efforts to improve relations with India. Any hope of reducing tensions, slowing the arms race in South Asia and increasing cross-border trade has been shelved yet again.
Pakistan's courts shouldn't do the work of voters. Its anti-graft bodies could use more resources and greater independence, but politicians should resolve their political differences in parliament and through the ballot box. Removing Sharif may have been the right thing to do, but it's no remedy for what ails Pakistan.
--Editors: Nisid Hajari, Clive Crook
To contact the senior editor responsible for Bloomberg View's editorials: David Shipley at davidshipley@bloomberg.net .